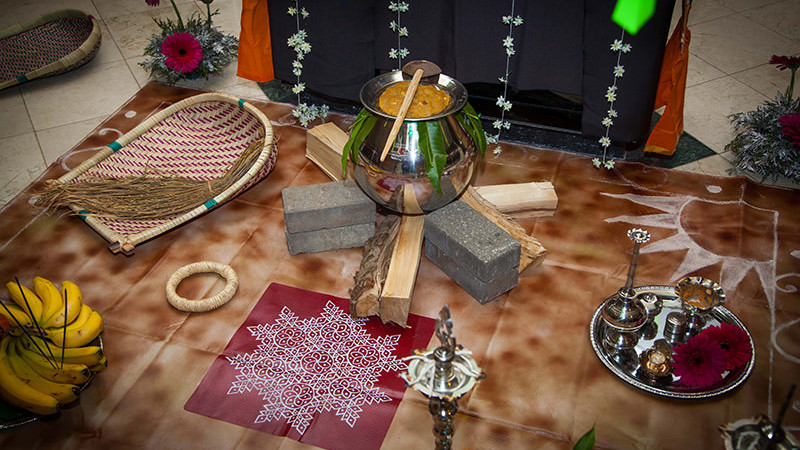 Canadian Tamil Congress celebrates its 8th Annual Thai Pongal
The Canadian Tamil Congress' (CTC's) 8th annual Pongal Dinner was celebrated on January 17th, 2015 at the Sheraton Parkway Hotel in Richmond Hill. Attended by close to 1,000 people, the event showcased Tamil arts, culture and highlighted CTC's impressive achievements in 2014.
The dinner was attended by several politicians, public officials and community leaders including the Federal Citizenship and Immigration Minister Hon. Chris Alexander, Parliamentary Assistant to the Prime Minister M.P. Paul Calandra, Federal Liberal Leader Justin Trudeau, Ontario Minister Tracy MacCharles, Mississauga Mayor Bonnie Crombie, City of Toronto Deputy Mayor Denzil Minnan-Wong, Stouffville Mayor Justin Altman, Member of Parliament for Scarborough-Rouge River Rathika Sitsabaiesan, York Region Police Chief Eric Jolliffe, City of Toronto Deputy Police Chief Peter Sloly, Ontario Conservative party leadership candidates, Patrick Brown and Christine Elliott as well as numerous other MPs, MPPs, councillors, Consul General for India in Toronto Mr. Akhilesh Mishra, Chief of Political and Economic Affairs of US Consulate, Ms. Andrea Gorog, academics, professionals, members of law enforcement, media and business and community leaders.
Greetings from Canadian government, Ontario government, City of Toronto, City of Mississauga, City of Markham and the host town Richmond Hill were also presented at the event.
Mr Raj Thavaratnasingham, president of CTC, spoke about CTC's international advocacy work and its role in the passage of the UNHRC resolution in March 2014, which established an international inquiry into war crimes and crimes against humanity committed during the final stages of war. While welcoming the change in presidency in Sri Lanka, the president said "CTC remains hopeful that friendly countries like Canada, India and the U.S.A.—who have provided much support so far—can persuade the new government to resolve the underlying issues so that everyone in that country can move forward."
As in the past, three awards were presented. This year's "Service Excellence Award" was awarded to Dr. Shan Chandrasekar, President and CEO of Asian television Network (ATN). The award recognizes an organization or individual's compassion, dedication and support to community building efforts. This award also recognizes the organization's long-term support, commitment and significant contribution to the Tamil community at large. Dr. Chandrasekar praised the work CTC does and pledged to give more exposure to CTC through his vast network of ATN channels.
The Leaders for Change Award was presented to Mr. Bernie M. Farber, the former CEO of the Canadian Jewish Congress. This award honours the unique contribution of an individual who through his or her exceptional vision, perseverance and commitment has redefined or strengthened the need for change in our society. The recipient of this award is someone who has demonstrated an effort to strive for change in a way that positively impacts the lives of others. In hisacceptance speech, while noting the tamil community's support in fighting against racism in early 90's, Mr Bernie Farber said the "Tamil community was one in one with Jewish community. We stood together against hatred".
The Living Hero award was presented to Rev. Dr. S.J. Emmanuel, president of Global Tamil Forum. The award recognizes the work of heroic individuals for their selfless work in bettering the lives of others. The award is given to a person of Tamil origin who has demonstrated exemplary leadership, courage, empathy and services in challenging circumstances. As President of Global Tamil Forum (GTF), Father Emmanuel brought greetings from Tamil organizations around the world.
As in the past 5 years, in 2014 CTC once again raised money through its annual walk-a-thon for a Canadian charity. With the cheque for $32,000 presented to Heart and Stroke Foundation, CTC has raised closed to $300,000 for six charities in the past six years.
The event also included captivating performances by the students of Niranjana Chandru and by the youth members of Centre for Leadership and Innovation (CFLI).
An event of this magnitude is financially successful only with the sponsorship and support of our major sponsors, table sponsors, advertisers and well-wishers. The Canadian Tamil Congress express its sincere appreciation to our sponsors, volunteers, members and friends for their generous support, and would like to remind all to always support our community supporters.