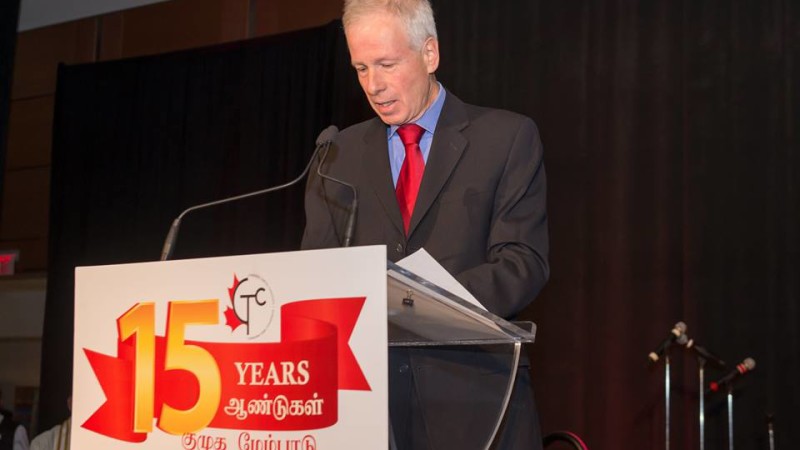 Dion's Sri Lanka visit is Canada's opportunity to lead globally
The Trudeau government should make a substantial contribution to help those most affected by the war.
PUBLISHED : Thursday, July 28, 2016 10:47 AM
This week, Foreign Affairs Minister Stéphane Dion is making his first visit in his current role to Sri Lanka to highlight the country's human rights situation and promote reconciliation and accountability in the aftermath of the civil war, which ended in 2009.
It is a welcome opportunity for the Trudeau government to show its commitment to responsible engagement on the world stage and to help fulfill its pledge to make a lasting contribution to international peace and development.
The reality is that seven years after the end of Sri Lanka's devastating civil war, a permanent peace has not been achieved. While the new Sri Lankan government has made some progress, the pace of change has been very slow. Those affected most by the war languish in poverty. Countless civilians remain unaccounted for. The road to justice and reconciliation for victims of the war has been plagued by delays and reluctance by the Sri Lankan government to hold those responsible accountable.
With Canada being home to 350,000 Tamil Canadians from coast to coast to coast, our government is in a unique position to help create and support a lasting peace in Sri Lanka. The international community has a small window of opportunity to promote reconciliation in the island nation, and that moment is now.
By helping victims of the war, Canada can live up to its commitment to support reconciliation efforts in Sri Lanka. Through taking this leadership role in the global arena, our country will transform lives. It's particularly critical that those affected by war have access to trauma counselling and projects that support livelihoods in the agriculture, fishing, crafts, and light industrial fields. This type of support will provide those who survived the war, particularly women, with dignified means of feeding, clothing, and housing themselves.
We are calling on the Trudeau government to make a substantial contribution to help those most affected by the war. This funding will make a significant impact on the lives of hundreds of thousands of victims in Sri Lanka, and will position Canada as a leader in post-war development and progress among the G7 countries. It will help fulfil Prime Minister Justin Trudeau's vision to "refocus Canada's development assistance on helping the poorest and most vulnerable, and supporting fragile states."
Most importantly, this contribution will pave the way towards reconciliation and create a conducive environment for a lasting peace in Sri Lanka. Canada played a vital role in 1950 during the establishment of the Colombo Plan, which marked the birth of our country's foreign assistance to Sri Lanka and its neighbours. The plan showed the best of Canada's values as a compassionate, engaged player in global affairs. Once again, Canada has a great opportunity to seize the moment, build on this proud legacy, and be the global player that our prime minister envisioned.
Raj Thavaratnasingham is president of the Canadian Tamil Congress.
The Hill Times