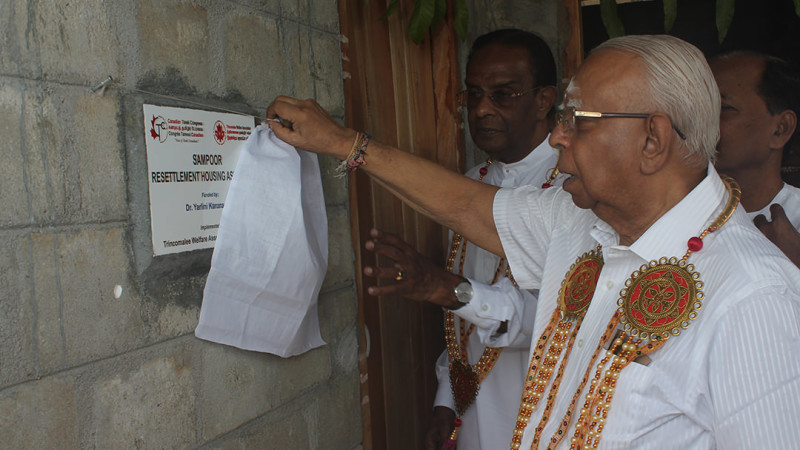 First stage of Sampur (Sri Lanka) Housing Project completed with the support of Tamil Canadians.
In 2006, thousands of Tamils were forced to flee their homes in Sampur village due to the war. In August 2015, the new Sri Lankan government released 818 acres of land in Sampur to its original owners. Though 367 families got their land back, their houses were completely destroyed during the war. Out of these 367 families, 41 families were women headed families.
Canadian Tamil Congress with the support of Trincomalee Welfare Association (Canada) committed to build temporary houses for these 41 women headed families. A little over $100,000 was raised through the Tamil Canadian Walk-a-thon for the Sampur housing project which was held on September 13th 2015.
Though there has been some delays in construction due to heavy rain fall leading to flooding in the last several months in Sri Lanka, the first stage of constructing 18 houses has been completed. These 18 houses were handed over to its owners officially on March 25th 2016.
On March 18th 2016, a religious ceremony was held by the house owners. Two Tamil Canadian representatives participated in this ceremony.
The official handing over ceremony was a public event on March 25th 2016 presided over by TNA Leader and Opposition Leader of Sri Lanka Hon. R. Sampanthan who is also the local member of parliament for Sampur, Trincomalee. Sri Lankan government Minister for Resettlement Hon. D.M. Swaminathan, Governor of Eastern Province Hon. Austin Fernando, Chief Minister of Eastern Province Hon. Z.A. Nazeer Ahamed, Trincomalee MP Thurairatnasingham, Trincomalee Government Agent S. Pushpakumara, Eastern Provincial Education and Resettlement Minister S. Thandauthapani, Eastern Province Agriculture Minister K. Thurairajasingham and many other Eastern Provincial Council Minsters and Councillors also participated in this event.
177 acres of land occupied by the Sri Lankan Navy in Sampur was released later on the same day.
The balance 23 houses out of the 41 houses committed will be built in second stage soon.
Sponsor of the 18 Houses in the First Stage
Name of Beneficiaries
Senior Tamil Centre of Ontario
Vimalan Pushparani
V.Kemashantha
Dr. Yarlini Karunanithy
Krishnakumar Jeevarajani
K.Vaishalini
Hartley College Past Pupils (Canada)
Marimuththu Sellamma
S.Sulakshana
St. Johns'College 87-91 Toronto
Kumarasamy Analedsumi
Kirujana
Premalatha
Minnal Senthikumaran
Nagalingam Parvathippillai
Kalidevi
Shathushan
Sumalatha
Dynevor Express
Nagarajah Poomani
Ilankai Kannan Family & Friends
Sayanthan Parimala
S.Kirushika
Mr & Mrs Pathinathar
Thampaiya Yogamma
Karishka
Mithishan
Kalvi Connections
Marimuththu Kanagamma
Nageswary
Serendib Paint and Decor
Thavarajah Suneswary
T.Thavajenthan
Thavajenthini
Delta Academy Parents Association
Santhiramohan Jeyashanthi
1 girl child -7 years old
Canadian Tamil Medical Association(CTMA)
Kamalapoosanadavi
Rajendran Family (Manipay)
Selathurai Pakkiyam  
S.Ramamorthy
S.Sulakshi
Old Students (Canada) Kokuvil Hindu College
Siththiravel Kannakai
Thenvarajah Rabimohan family
Megendran Nagapakkiyam
Thuvaragan
Sopiga
Arya Canada Inc.
Poopalapillai Sarosanayagi
Shanjega
Shathurshan
Dr. Geetha Jayarajah
S.Marimuthu
S.Abishini
S.Nilugshan
Rose Jeyaratnam Family & Friends
Visuvaiya Vallinayakam
Depend on her daughter
Daughter has 2 children
Photos:
http://www.canadiantamilcongress.ca/gallery/sampur-sri-lanka-housing-project-sponsored-by-ctc-and-twa/
Videos: