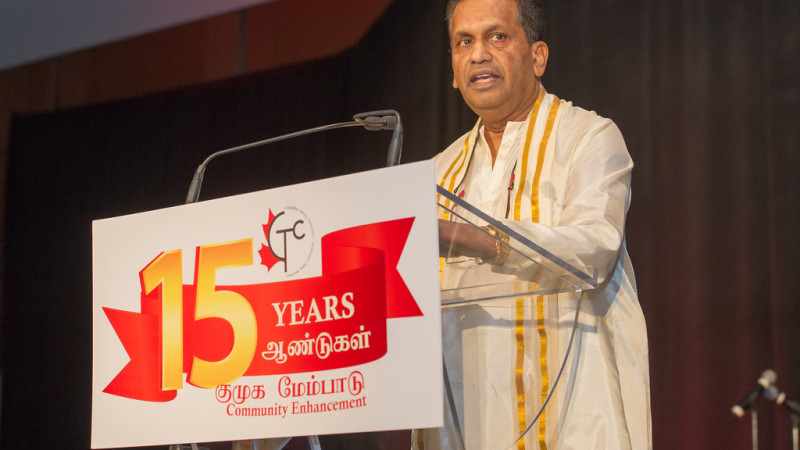 President's Speech – CTC 9th Annual Thai Pongal Gala Dinner 2016
Vanakkam, Bonsoir, Good evening!
Ellorukum Pongal Valthukkal. Happy Thai Pongal.
I am very pleased to welcome you all to CTC's 9th Annual Thai Pongal Dinner.
Tamil-Canadians are a thriving community in Canada, and can be found in every province and profession. Many Tamils have made great achievements and strong contributions to the social, political and economic engine of Canada. For the last 15 years, the Canadian Tamil Congress has supported and fostered these achievements, and advocated on behalf of Tamils everywhere.
This evening, I would like to extend a special welcome to Minister Dion, Premier Wynne, Mayor Tory as well as other dignitaries, friends, members and supporters. We are glad to have you with us.  I am also particularly proud to welcome one of our former members, Gary Anadasanagaree, who was elected MP for Scarborough-Rouge Park in the October election.
For all of us at CTC, 2015 was the best yet.  CTC planned and executed Tamil Fest, a street festival attended by nearly 90,000 people, featuring Tamil arts, culture, and most importantly, mouth watering spicy food. It also included a diversity hour, showcasing the strength and talents of many different communities in Toronto.  At our annual walkathon, CTC raised $110,000 to build basic houses for 41 war widowed families in Sampoor, in the eastern province of Sri Lanka.
2015 was also a big year for our advocacy work.  For the 6th year in a row, CTC was at the UN Human Rights Council, working towards accountability for crimes committed in Sri Lanka.  I was there, in the chambers in Geneva, in October when the Council passed a resolution towards achieving truth, justice, reparations, and a guarantee of non recurrence.  In that moment, I felt the weight of CTC's hard work over the last six years, alongside many countries as well as our partners USTPAC, British Tamil Forum, Global Tamil Forum and the TNA.
I thank our international team and the leader at the time Gary Anandasangaree, for their dedication. I also want to acknowledge some of our Global Tamil Forum friends in attendance today from Australia, the UK, the USA, and the President, Father Emanuel from Germany.
I reiterate CTC's call for the new government of Sri Lanka to address the grievances of the Tamil people so they can live with peace, dignity, equality and justice. While we are not happy with the pace at which the changes are taking place, we appreciate the efforts being made to steer the country in the right direction.   The August parliamentary election saw the major Tamil party, the TNA, win a huge victory.  That election, and the January 2015 presidential election, provides a historic opportunity to work towards the just resolution of a decades-long conflict.  We are thankful to the Tamil National Alliance for their leadership, and thank MP Sumanthiran for his presence here tonight.
Domestically, I also want to recognize the long history of the First Nations people in Canada—we must remember that resolving the daily injustices they live with is our collective responsibility. We appreciate the recent efforts put forth by the government to move forward towards a solution.
The work we do at the Canadian Tamil Congress would not be possible without the generous support of our members, friends, advertisers, sponsors and the community at large.  Tonight, our special thanks goes out to the sponsors, HimelfarbProszanski LLP,  Asian Television Network, Chapel Ridge, Nava Law, Thanaraj from Petro Canada, Computek College, and ReMax Sujan Shan, as well as the table sponsors and advertisers of this Gala.  I also wish to acknowledge our incredible volunteers, volunteer board of directors and our staff, Danton and David, for their years of service.
In 2016, we are embarking on our most  ambitious project yet—to work with others with similar goals to build a Tamil community center.  We have also planted the seeds for an economic development center to empower Tamils globally.   We will partner with the Tamil Chair initiative at Harvard University to ensure our language flourishes forever.  We will recognize the 30th anniversary of the arrival of first boat of Tamil refugees in 1986.  As always, we will continue our advocacy and human rights work. CTC is ready to work with all parties in Sri Lanka, and the international community, to come up with an acceptable solution to the Tamil National question.  The Tamil diaspora must, and will, continue to play an important part.
I hope you enjoy tonight's programme.  On behalf of everyone at the Canadian Tamil Congress, I wish you a very happy, healthy and prosperous 2016. The best of CTC is yet to come.
Thank you, Merci beaucoup, Nandri.